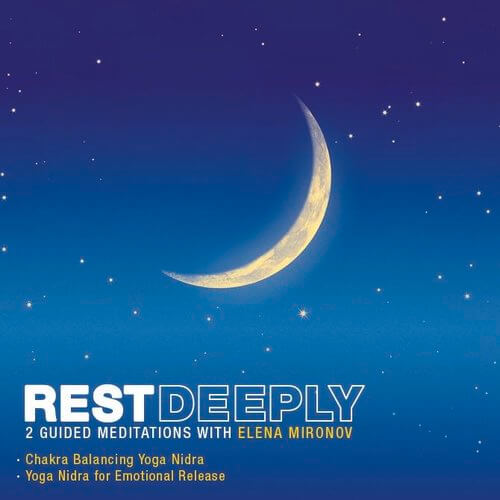 Rest Deeply: 2 Guided Yoga Nidra Meditations
€ 21.15
A digital download of a deeply restorative and relaxing yoga nidra meditations to help you heal, unwind and get some quality rest while you are training your mind to stay calm and tranquil.
Testimonials:
Beautiful and simple practice! Being a yoga teacher myself I so appreciate a quality Yoga Nidra session for relaxation, reducing stress and coming back into my body, into a place of true peace, contentment and ease within myself. Elena delivers an eloquent, beautiful and simple practice. Her practice allows me to easily drift out of my busy mind and drop into a place of bliss. Thank you so much Elena, Satnam
– Naomi Nahoum, Yoga and Meditation Teacher, Author and Yoga Nidra Expert, Australia
The Voice of Peace ***** (5 stars) Elena's voice is incredible, there's strong presence in it but also a softness and tenderness that invites deep relaxation and contemplation. A regular practice with her CD invokes more peace and clarity on and off the cushion. I'm grateful to have found her work!
– Gina Caputo, Senior Yoga Teacher and Educator, US