If you've ever tried yoga nidra, you've also experienced that post-practice "high" – a rested, relaxed state that feels like you've just had the most satisfying nap of your life! It always left me curious…
So every time after my practice, I'd be wondering: has this method been studied by researchers? And if yes, what exactly did they discover?
Now, after over a decade of teaching yoga nidra and after going through hundreds of studies while creating Teach Yoga Nidra programme, I can confidently say that yoga nidra has indeed been studied by a number of universities worldwide. The first few yoga nidra studies outside India started to appear in the 1970s and by now, we have a solid body of work done in this field.
Here are some of the benefits of yoga nidra that have a scientific backing.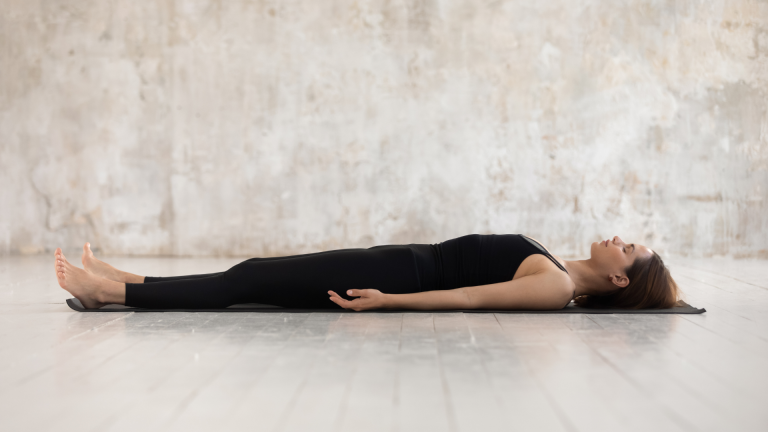 1. Yoga nidra can alleviate anxiety, stress and depression.
There's been a number of studies carried out from 2016-2019 that demonstrate that yoga nidra is an effective way to reduce stress and anxiety. Furthermore, it is also a proven way to help the practitioners deal with depression.
One more interesting finding is that slow brain wave state (it's typically observed in sleep) helps the body clear out stress hormone cortisol – and yoga nidra meditation is capable of inducing that slow wave sleep pattern in the brain.
(I've added links to some of the research projects I've used while writing this post, below).

2. Yoga nidra relieves pain and has an anti-inflammatory effect.
This study was conducted in 2012 in India and focused on exploring the effect of yoga nidra on patients suffering from rheumatoid arthritis. It's a condition associated with chronic pain and it significantly impairs the life quality of the patients.
The practice of Yoga Nidra showed significant relief in pain, tenderness, stiffness and swelling of the joints in all patients taken under trial. Those patients reported a feeling of well-being, lightness in the body, improvement in mental, emotional and muscular tension.
3. Yoga nidra reduces blood pressure.
This 2010 study assessed the effect of yoga-nidra on blood pressure. So, the participants of this study had hypertension and Yoga Nidra sessions were delivered daily for 15 days. 
The study showed a significant reduction of mean systolic and diastolic blood pressure. The study has concluded that yoga nidra is an effective measure to reduce the level of blood pressure among elderly.
Here you go! I hope to have motivated you to do your yoga nidra practice today – or perhaps to share this post with your mum or a friend who could benefit from it.
If you're new to yoga nidra, I've prepared a free yoga nidra download for you so that you can put all your knowledge into practice right away.
And if you're a yoga teacher interested in offering yoga nidra classes to your students, join a brilliant teacher training I've created. You can put  your name on a waiting list and I'll notify you once the programme opens!
References:
Ferreira-Vorkapic, Borba-Pinheiro (2018) The Impact of Yoga Nidra and Seated Meditation on the Mental Health of College Professors.
Dhamodhini, K S (2019) Impact of Yoga Nidra on Cognitive Impairment: An Interventional study. Masters thesis, Government Yoga and Naturopathy Medical College, Chennai.
Kim SangDol (2019) Effects of a yoga nidra on the life stress and self-esteem in university students.
C Gronfier 1, F Chapotot, L Weibel, C Jouny, F Piquard, G Brandenberger (1998). Pulsatile cortisol secretion and EEG delta waves are controlled by two independent but synchronized generators
Brajeshwar Mishra, Dr.(2012)The effect of yoga nidra in the management of rheumatoid arthritis.
Mrs Thangam Fuela Esther, Bharathi A. Dhivya (2019) Effect of Yoga-nidra on Blood Pressure among Elderly with Hypertension Residing at Selected Old Age Homes.