Does this sound like you?
(oh, if it does, you're NOT alone)
Did you know that yoga nidra
Would you like to teach yoga nidra and share these benefits with your students?
You've come to the right place.
I'm an experienced yoga and meditation teacher, teachers' educator and psychologist.
My yoga journey spans over 2 decades, and I've been educating teachers since 2012.  
I've got over 9000 yoga and meditation teaching hours under my belt and at this point in my career I dedicate my time to training teachers, writing for wellness publications and working 1-2-1 with anxiety, burnout and stress disorder patients at a rehabilitation clinic.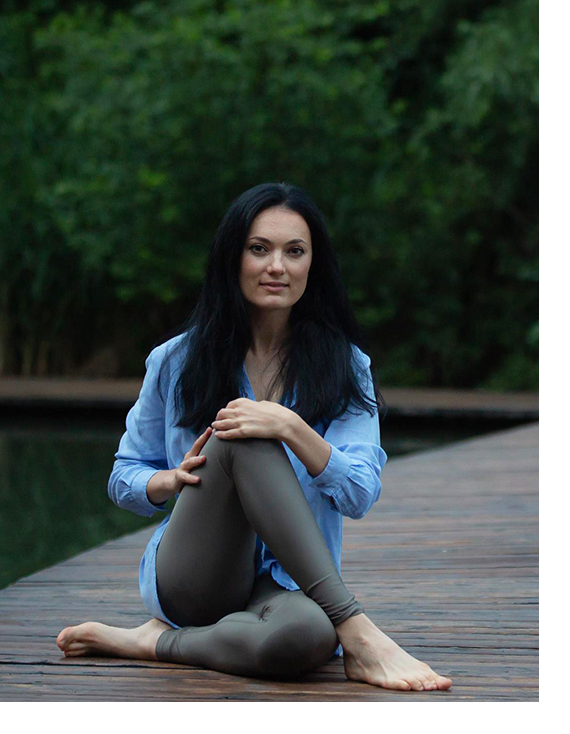 "LOVED your nidra... gave me the courage to do my own... so grateful!"
"Beautiful and simple practice! Being a yoga teacher myself I so appreciate a quality Yoga Nidra session for relaxation, reducing stress and coming back into my body, into a place of true peace, contentment and ease within myself. Elena delivers an eloquent, beautiful and simple practice. Her practice allows me to easily drift out of my busy mind and drop into a place of bliss. Thank you so much Elena"
"The Voice of Peace ***** (5 stars) Elena's voice is incredible, there's a strong presence in it but also a softness and tenderness that invites deep relaxation and contemplation. A regular practice with her invokes more peace and clarity on and off the cushion. I'm grateful to have found her work!"
Elena's work has been featured in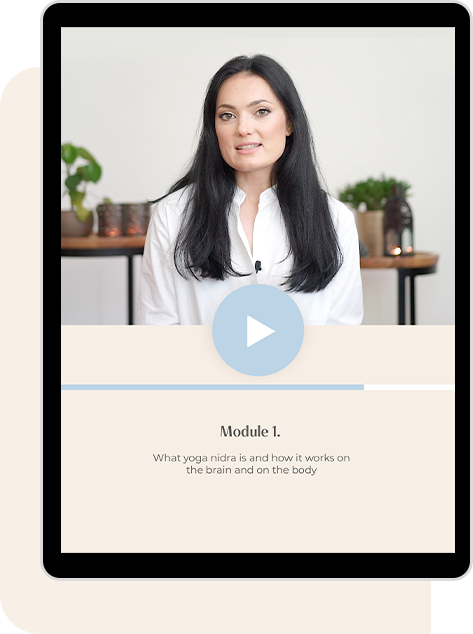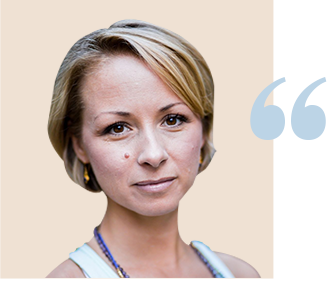 Words cannot describe how deeply grateful I am for the opportunity to have been part of such a journey and transformation that this course provided for me.
I have been teaching yoga and pilates for 20 years. Through out that time I have come to see the most important component towards overall health and wellness for myself as a therapist as well as my students is the ability to connect to our own inner source.
This is the foundation for all healing, and it became more accessible to me through the teachings and guidance that Elena provided in her program.
From the moment that I signed up, Elena's presence and support was gracious and warm, acknowledging all of our concerns and questions with such clarity and authenticity.
The information contained in her program is something that moved me profoundly and allowed to me to deep dive into the areas of my life with the tools I needed to heal and grow.
I am humbled and eternally indebted for the experience I had and I would recommend this program for anyone that is wanting to deepen any existing practice they have or wanting to learn more about the therapeutic benefits of Yoga Nidra. 
- Amanda Mae Kramer, yoga and meditation expert, US
The world is becoming an increasingly fast-paced and stressful place. According to American Institute of Stress, 80% of US population feel stress at work and say they need help with managing stress.
Another big issue is sleep. There's a growing need for methods of stress relief that can help us replenish our energy and support healthy sleep.
Throughout decades, yoga nidra studies have been consistently showing significant effects on stress reduction. Yoga Nidra improves sleep and helps practitioners cope with anxiety and burnout.
This also leads to a growing demand for qualified and well informed yoga nidra teachers.
As a meditation teacher, you can help your students get amazing results and support mental health. With yoga nidra they can attain a stress-free, relaxed state, a sense of calm and clarity as well as better sleep.
Learn to teach yoga nidra, and you'll be able to make a bigger difference for your students, without driving yourself to exhaustion with endless asana sessions and demos.
With this programme, not only will you help your students discover the deepest form of rest, but also create your own personal practice. When you do, you'll be amazed by how often your students ask you: "How do you manage to be so rested, relaxed and glowing? Seriously, you're a living proof that yoga nidra works!".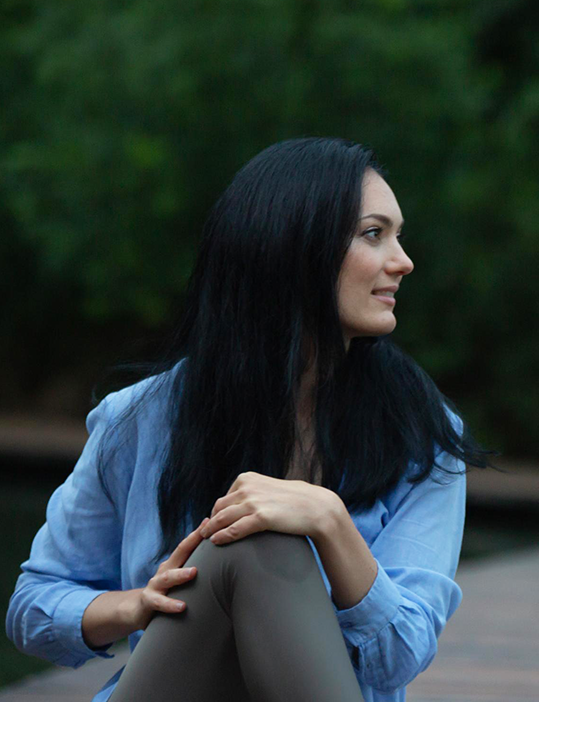 Why I created this training
Yoga nidra is a powerful technique for restoring physical, mental and emotional health.
And YES, you can teach it like a pro.
Learn a new skill that will give you a sense of fulfilment as you help your students overcome personal challenges.
In just 4 weeks you'll be ready to teach it from an informed place and with complete confidence.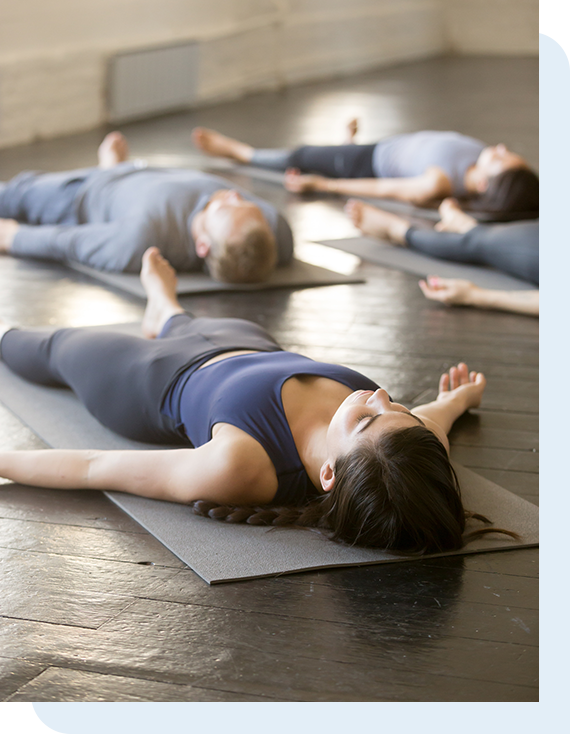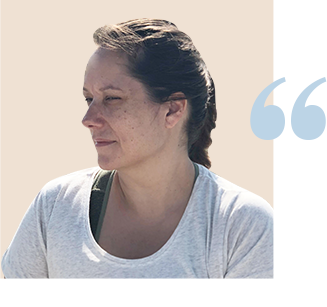 Joining Elena's yoga nidra teacher training has been an amazing journey for me.
She has a unique and very rare way of teaching yoga nidra. Her voice and the details in the guidance is wonderful.
As a yoga teacher I knew that I had to join the yoga nidra teacher training. In-depth background theory, effects of yoga nidra, the guided yoga nidra steps, scrips and practical teachings were all covered.
Elena's knowledge is detailed, documented and thorough. And her teacher teachings skills are captivating.
After the course I now know how to teach yoga nidra in different ways. I know about the hormones and the effect on the body and brain and I know about the benefits of yoga nidra.
If you are a fan of yoga nidra do not hesitate to join Elena's course.
- Annette Larsen, Yoga and Meditation Teacher. Copenhagen, Denmark
Still not convinced? Here are more scientifically proven effects of yoga nidra
Imagine your students telling you THIS after the practice:
"I feel like I just
had the best nap of my life!"
– Alexa
"I'm coming back for more"
– Thomas
"I feel 10 years younger"
– Tara
"It's like floating on a cloud! 
– Hannah
"I've only been meditating for 40 minutes? I feel so refreshed like I just slept for a month"
– Andres
"All my tiredness and edginess are gone without a trace"
– Sophia
Teach Yoga Nidra is an online training that offers you everything you need to start teaching with confidence and skill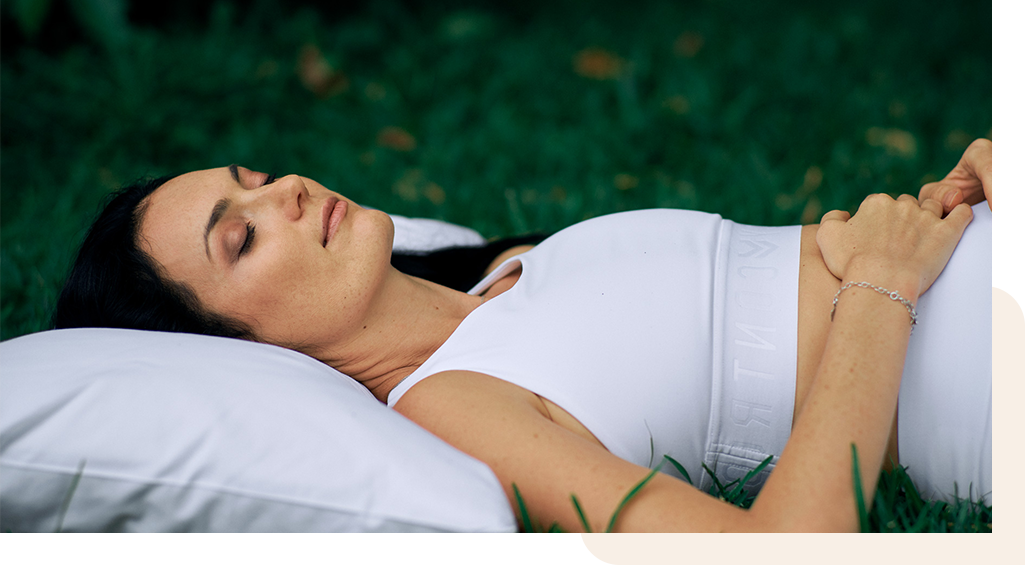 By the end of the program, you'll be able to...
After completing this programme  you'll be equipped with knowledge, technique and invaluable practical skills to start teaching in just 4 weeks 
Use your voice like a pro
You'll learn to use your voice in a way that is natural, soothing, relaxing, easy to follow and listen to
You'll learn to intelligently create your own scripts that you can adapt to the needs of your clients 
Create your own yoga nidra recordings
You'll learn create recordings of your yoga nidra to support your students when THEY need it most. Teaching online might even become your favourite way to teach!
Understand how yoga nidra works
You'll discover the mechanism of yoga nidra: we'll cover brain waves and biochemicals in an easy-to-understand way 
Build a solid meditation self-practice
During this training you'll receive ample guidance and resources to create your own daily yoga nidra meditation practice to boost your well-being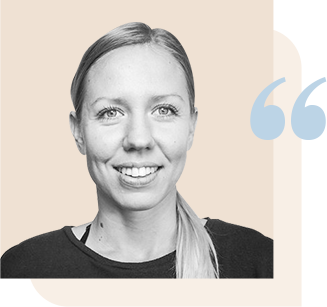 The Yoga Nidra course with Elena has given me a very useful tool. 
As a body therapist and yoga teacher, it has given me the opportunity to consciously work with the body's own restorative resources.
With clients in my clinic and when I guide my students in my classes through yoga nidra meditation, I experience people as more 'whole' instead of fragmented, having clarity of mind and experiencing better night's sleep.
The Yoga Nidra meditation helps to draw the presence into oneself both on a physical level as well as a deeper unconscious mental level.
- Karina Højgaard, Body Therapist and Yoga Teacher. Copenhagen, Denmark
Teach Yoga Nidra Curriculum
Teach Yoga Nidra consists of 5 modules that are the foundation of your skill and knowledge for teaching this practice. Each component of the programme is created to give you all you need to start teaching as soon as possible and guide your students through yoga nidra with skill, competence and confidence
What yoga nidra is, where it comes from and how it benefits human body and mind

The mechanism of yoga nidra from the perspective of yoga tradition, classic psychology and modern science
All you need to know to understand how the practice works on human brain and body

Therapeutic Applications of Yoga Nidra
You'll learn about the nervous system, sleep and insomnia as well as a variety of physical, psychological and psychosomatic conditions that yoga nidra is beneficial for

Discover the components of the practice and the script

All the practical insights  you need to start teaching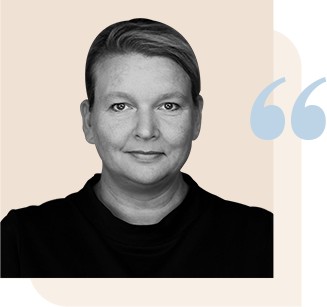 I have practiced Yoga Nidra for several years now and it has helped me to relax more and more, especially since I have a thyroid problem. 
Avoiding being stressed is very important to me.  
The Yoga Nidra online course helped me very much with this.

I also wanted to learn how to teach Yoga Nidra myself and therefore I needed to dive into it a bit more.

I'm very happy with your online course that gave me lots of tools and insights so I got the chance to learn more about the background and research.

It was very convenient that I could study at my own pace and time, I really appreciated the professionalism of the course and the personal lessons Elena gave us during the group calls.
- Iris, Yoga Teacher, Netherlands
Enroll Now and You'll Also Get These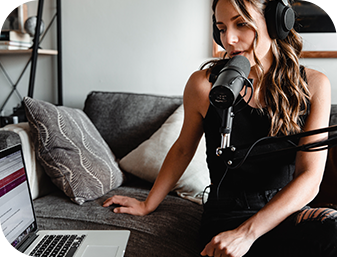 A down-to-the-point guide to creating yoga nidra recordings
What you REALLY need to know – and no, you won't have to become a sound engineer to create crispy and clear sounding yoga nidra recordings. This bonus will help you save lots of time as you can avoid common pitfalls and start recording your yoga nidra meditation with a simple setup
(Value 199eur) included in Teach Yoga Nidra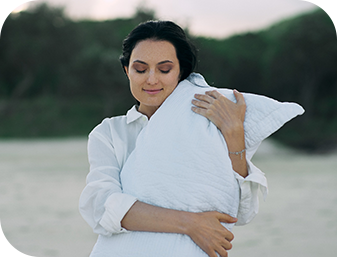 Resources to help you create your personal practice
This bonus will support your health and well-being, bring back the glow and make you the best role model for your students. You'll get access to a collection of yoga nidra practices as well as video guidance and practice journal template 
(Value 149eur) included in Teach Yoga Nidra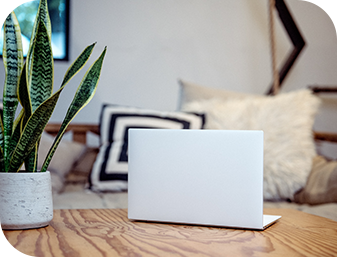 5 script templates to get your script-making juices flowing
Take the pressure off yourself and start with these 5 brilliant yoga nidra script templates. They will help you get started and support you as you learn to create your own scripts
(Value 199eur) included in Teach Yoga Nidra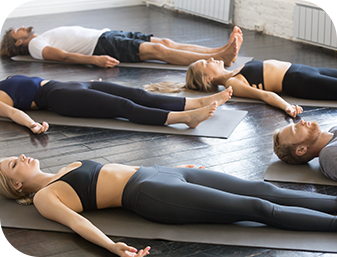 The business of yoga nidra - this bonus is a part of Mentorship programme
This bonus training will help you get clear about your goals as a yoga nidra teacher and create a road map of how to get there 
(Value 389eur) included in Teach Yoga Nidra Mentorship Programme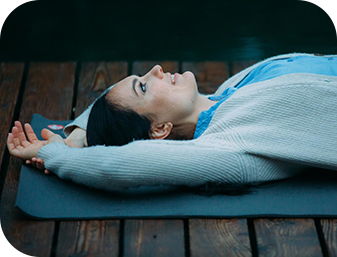 Resources to continue evolving as a teacher
In the end of the training you'll receive a list of resources that will keep you growing as a teacher and exploring new dimensions of this life-changing practice
(value 79eur)  included in Teach Yoga Nidra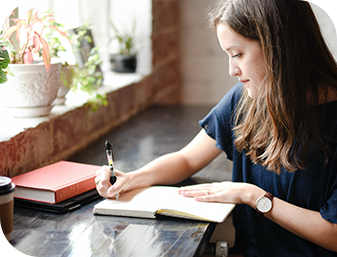 The ultimate pre-class checklist
This checklist will help you remember all the important things and ensure a great experience for your students
(value 79eur) included in Teach Yoga Nidra
I wanted to thank you once again from all my heart for the teacher training. It was really the highlight of my year. I really loved the way you brought together the scientific findings about yoga nidra and the spiritual, the yogic part that is based on yoga philosophy. 
Before I took the training I was a bit sceptical whether it would work for me in it's online form, but it perfectly did. The live Q+A calls were really helpful. You really took your time to explain things, to answer our questions.
I feel perfectly ready and prepared to actually go out there and do it which is also not usual with every teacher training.
I really feel you gave us the tools, the knowledge and the confidence to really take what we've learned and to hand it on to the people that come to us and want to experience yoga nidra. 
So thank you once again for your passion, for your love and all the experience and knowledge that you've shared with us!
-Klaudia Krauss, yoga and meditation teacher, Germany
What Elena's students are saying
"I remember the first time I practiced meditation with Elena as my meditation teacher, it was such an amazing experience. It was her online yoga nidra guided meditation and it was a game-changer for me. At the time I was starting to go more deeply into my yoga practice and Elena's meditations were a huge help to me in being able to explore what was really going on inside for me. There is something very special about Elena as a meditation teacher. Her voice is very soothing and she creates an environment of safety, calmness and peace. Through her meditations I have been able to become more grounded as well as kinder to myself and those around me. Elena is a truly inspiring teacher and individual."
- Lorna W.
Senior Director, Localization
"My meditation journey expanded into a new dimension after the yoga nidra meditation classes and training with Elena. I made some big changes in my life in the last years and I am convinced that yoga nidra helped me to reprogram my mind and make these changes happen. I am grateful for her introducing me into this world. This experience even pushed me to start teaching yoga nidra myself to spread the amazing benefits that I experienced."
- Reka D.
Founder of wellbeing.design - Leadership Consulting, Coaching
What convinced me most about Elena's course was her holistic, research-based approach. Perhaps 90% of our chronic illnesses are based on stress. In her course, Elena showed the connections between stress and our nervous system and explained the positive effect of Yoga Nidra on our nervous system. Thanks to this knowledge, I can support my clients more holistic way and address their individual needs.
I felt carried and supported by Elena during the course. Even when the course was held online, I felt like we were in the same room together. I found the exchange very valuable. Thanks to the course, I can give my clients even more extensive support in switching off and recharging their batteries in their everyday lives. I can offer you a space to come to terms with yourself and find peace and relaxation.
- Yvonne S.
- Yoga- and Meditation Teacher
Choose Teach Yoga Nidra option that is right for you
Option 1

Just the training (no certification)
Great choice if you want to learn about yoga nidra, but you don't need certification or Yoga Alliance credits (more info below)
Access to the training for 3 months
Option 2

Training + certification
Get priceless real life experience and feedback from your training partner, receive Elena's input on your assignments and become a certified teacher
Access to training for 6 months
Option 3

Training + Certification + Mentorship
All the benefits of Option 2 + mentorship programme with Elena (more info below)
Access to the training for 12 months
Save your spot now to get immediate access to the training and be a part of this group!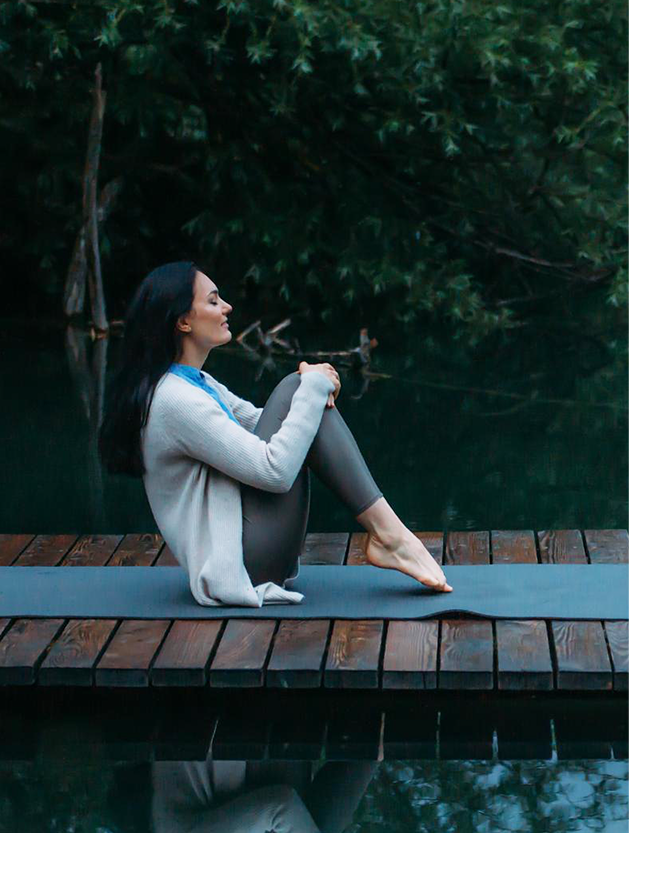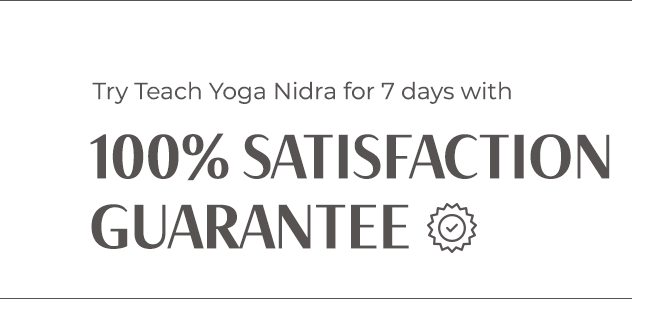 Teach Yoga Nidra comes with a 100% satisfaction guarantee. This training will help you create a solid understanding of yoga nidra  and get the tools you need to start teaching in just 4 weeks. I also expect you to put effort into mastering the skills I'm here to teach you. This is why in order to receive your 100% refund, you will be asked to submit the completed coursework for the first 7 days of the programme.
If you do all the coursework and meditations, and still feel that I have not delivered on my promise, please submit your fully completed coursework for the first 7 days within 7 days of purchase and I will promptly refund your payment. If the completed coursework is not received within the 7-day period, no refunds will be issued.
Please note that the satisfaction guarantee is applicable to the content of this training. This means that if you no longer have internet access or your work schedule changes and you decide to cancel your participation for reasons other than not being satisfied with the content of the training, no refunds will be issued.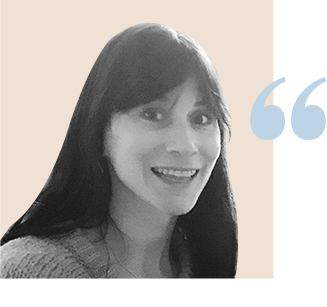 I have been practicing Yoga for 7 years on a regular basis. In studios, at home, I even went through 2 Teacher Trainings in order to get deeper into this world that interests and fascinates me!
Since 2019 I am a mom of three lovely little boys, triplets! My life changed radically from that point on, and at many points I found myself overwhelmed: fear, anxiety and doubts kept me awake at night although I was exhausted. I also suffered from mental fog and was in a constant "fight or flight" mode.
When I read the email from Elena about the 7 days Yoga Nidra Challenge, I was straight away interested since I already had very nice Yoga Nidra sessions. During those 7 Days, I felt the relief straight away: how come only 20 Minutes if "lying down" can make me feel so much better? I felt the instant ease of my worries, anxiety and fears. I could see clearly without any mental fog, and my afternoons (as I practiced Yoga Nidra during the midday nap of my boys) were much more energetic with a bright, optimistic and joyful mood.
That's why I decided to trust Elena and join her on the Journey of getting to know Yoga Nidra in depth.
Since the courses are recorded and launched on a daily basis, I could choose to learn at my own pace without being overwhelmed by the amount of recordings. Still I was disciplined enough to commit to those 45-60 min of learning a day, so I was finished after 3 weeks. I also loved the group calls with Elena and the other students that made the community alive and answered all of my questions.
Not only have I learned so much about Yoga Nidra and how to teach it, I have myself taken the benefits of daily Yoga Nidra sessions into my life as a student.
I guess I am not the only one benefitting from this clarity, bright mood and happiness: my boys and my partner can feel it too 🙂
- Celine, Yoga Teacher, France/Germany

Choose Teach Yoga Nidra option that is right for you
Option 1

Just the training (no certification)
Great choice if you want to learn about yoga nidra, but you don't need certification or Yoga Alliance credits 
Access to training for 3 months
Option 2

Training + certification
Get priceless real life experience and feedback from your training partner, receive Elena's input on your assignments and become a certified teacher
Access to training for 6 months
Option 3

Training + Certification + Mentorship
All the benefits of Option 2 + mentorship programme with Elena
Access to training for 12 months 
 Save your spot now to get immediate access to the training and be a part of this group!
References:
*we still need to sleep though..